FROM HÄLSINGLAND TO THE WORLD
It all started with a dream of decorating the walls of the studio apartment with folklore embroidery. A dream of incorporating something traditional with something modern; embroidery and pop culture. But when Sofia Magnusson coulnd't find what she was looking for, she deiced to create it herself. Even though Sofia neither had the technical skills nor the entrepreneurial experience, she managed to create a world uniqie femme tech company that challenges a whole industry. And the walls of the studio apartment, well, she finally managed to put some traditional yet modern embroideries on them!



TIMELESS AND VIGOROUS
The Folklore Company is not only a company that values the traditional and folkoreish, it values modernity, humour and timelessness too.



The Folklore Company is well established in Sweden and has a lot of yearly returning customers. But now, Sofia turns her gaze to wider horizons. "We already have customers ordering from the US, from Australia and South Africa. Without us even trying to reach them! And that's just really cool. So, there's definitely more potential there! Just think; a couple of years ago I wanted to decorate my walls with a modern folklore embroidery, and now I started something that makes it possible for others to get that, too! People from all corners of the world - it's incredible, isn't it?"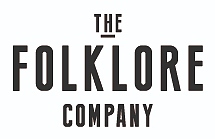 CHECK OUT SOME OF OUR EMBROIDERIES